Local Community Opticians welcomes new family member – December
<a href="http://www best project management software.molsom.co.uk/wp-content/uploads/sites/28/2015/06/press-release-new-staff-jan12-small.png">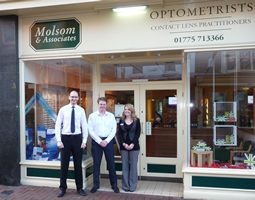 Local community optician Andy Molsom has just announced that his niece Annica Clark, has joined the family business, Molsom & Associates, to train as a Qualified Dispensing Optician. She has spent the past 18 months gaining experience at the firms Donington practice with her Mum, Cheryl Clark, and is now stepping up to take the professional qualification.
Under the guidance of Anglia Ruskin University and practice Manager Lee Purdy FBDO, she will undertake the 3 year distance learning course, with block release to become a registered Dispensing Optician.
"We are delighted that Annica has decided to join the family business, her caring approach and desire to offer the very best in optical dispensing will fit in well at our practice" said owner, Andy Molsom "She is already helping out with the professional aspect of dispensing spectacles, and under Lee's supervision she will gain the necessary knowledge, confidence and experience to become a valuable part of the team."
Despite the present economic climate, the practices within the group are the busiest they have ever been. "We are very conscious that the current economic climate is placing pressure on so many family incomes. We have always strived to provide the very best in eye care and eye wear at value for money prices and this policy will continue in the future" said Andy Molsom.