Children's Eye care
Looking after children's eye health is vital.
Children are never too young to have their eyes examined and do not have to be able to read.
Regular eye examinations for children are so important, especially during the early days of education to ensure they can learn to their full potential. Up to 5 million children in the UK currently have undetected visual problems. If there is a family history of any sort of eye conditions, squints or lazy eye for example, the earlier the problem is detected the better.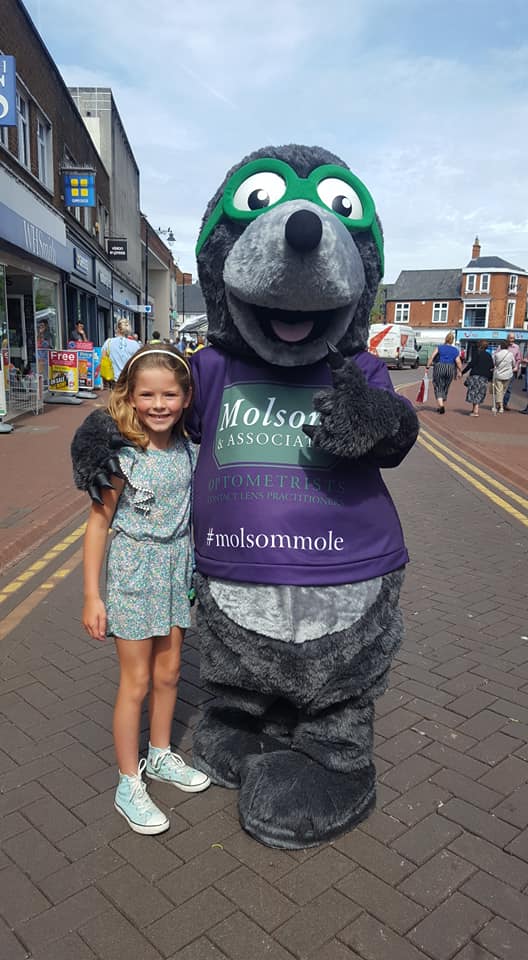 Every child living in the UK, under the age of 16 or in full time education up to the age of 18 is entitled to a NHS funded eye examination.
Molsom & Associates also work hard at educating children about the importance of eye health. We visit primary schools in and around Spalding every year with Sydney the bear and with our mascot #molsommole! Our team will show the children what an eye examination is and help to show them why it is important to have regular check ups! With an interactive session looking at contact lenses, colour vision, polarised sunglasses and 3D vision, the visit will hopefully ensure all children have their eyes examined regularly.
These visits can be booked by calling Bridget or Vicky at the practise 01775 713366. We will also visit pre-schools with a shorter talk if required.
We stock a great range of children's spectacles, sunglasses and sports goggles, so call us to book an appointment in one of our special after school children's clinics. We can also find contact lens solutions if required?
Take a look at the link below which gives you key eyesight milestones, from the College of Optometrists and also a short video on eye health in children.
http://lookafteryoureyes.org/wp-content/uploads/2015/07/TCOO-Infographic-Full-UPDATE-NOV-2015-e1449568603591.jpg
| | | | |
| --- | --- | --- | --- |
| | |   |   |
Choosing children's spectacles has never been clearer....
Using your NHS voucher you will receive the Essilor Airwear Crizal Easy branded lenses. The benefits are;
*Super tough
*Safe
*Easier to clean
*Clearer vision
*Thinner