Eye tests / Eye examinations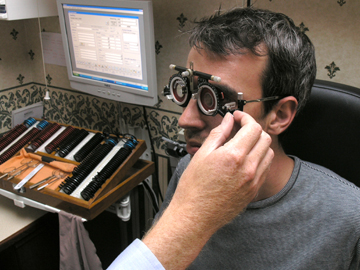 All of our Optometrists offer a full 30 minute eye examination which will be tailored to your individual needs, depending on your age, symptoms, occupation/hobbies, medical and family history. We offer Free Eye Tests for NHS Patients, as well as private examinations for non-NHS patients.
Why Choose Us?
We look after your health
Our Advanced Eye Examinations offers more than a standard sight test, by taking advantage of the latest technology we can identify eye disease earlier and monitor small changes in the eye much better.
Our use of advanced equipment allows us to refine our eye examinations, and to monitor patients within the practice rather than send them unnecessarily to hospital eye departments for further investigation, which means less time waiting in hospital outpatients.
However if we do find a problem, we can also direct you to the best eye specialist for your individual problem, rather than being seen by a general ophthalmologist who then refers onward to a particular eye specialist, thus benefiting from quicker treatment.
All our NHS patients are given the choice to pay to upgrade their NHS sight test, and opt for the Advanced Eye Examination.
Regular eye examinations ensure that you are enjoying the best vision possible and will identify eye conditions such as glaucoma, cataract, and macular degeneration in their early stages. Our optometrists can also gain a useful insight into your general health from the appearance of your eyes and may detect underlying conditions such as high blood pressure or diabetes.
A typical eye examination may include:
Discussion including your health, you and your family's ocular history, and your visual requirements for work and hobbies.
Examination of the front and back of the eye by an Ophthalmoscope and/or Slit lamp.
Assessment of spectacle prescription for the required working distance, such as distance (TV, driving), intermediate (VDU) and near (reading, sewing)
Muscle balance tests to make sure both eyes are working precisely together.
Tonometry (measurement of internal eye pressure -routine aged over 40)
Any other test deemed necessary (colour vision, stereo vision etc.)
We are constantly looking to improve services to our patients, and can offer many services in addition to those which you would expect from your optician. We also work with the DVLA who sometimes require specific visual field tests in order to grant a driving licence to patients with a known eye condition.
Our Promise
At Molsom and Associates we pride ourselves on a thorough eye examination and, being a local independent company, are able to listen carefully to the needs of each and every individual and meet those needs with a friendly and efficient service. From contact lenses and sports eyewear to advice on use of computer screens or laser surgery, we feel sure you'll find us everything you expected from an optician plus a whole lot more!
The Latest Technology
We have access to the latest equipment and technology, which enables us to accurately monitor eye health. The camera photographs the back of the eye and can be compared with further photographs at subsequent eye examinations. This helps us to detect even the smallest change, it serves as a early warning system for all sorts of health conditions, not just those solely related to the eyes. These can include Blood Pressure, Diabetes and raised cholesterol levels. We also have been using the latest technology in the TopCon OCT 3D retinal scan technology at our Spalding practice which are proud to one of the first local companies to have on offer to our clients. Our Optometrists experience in understanding the scans helps with early detection of many eye conditions and the rapid treatment to follow.
We also have a Humphrey Visual Field Analyser II, which is generally accepted throughout hospitals in UK as the gold standard in visual field analysis (used to detect/monitor glaucoma, for example).
NHS Entitlement
Molsom & Associates are able to offer free eye tests to all those eligible.
If you have specific information or communication support needs, please let us know in advance and we will do our best to meet these needs. Our practice is all wheelchair accessible and on the ground floor.