Eye examinations
Why Choose Us?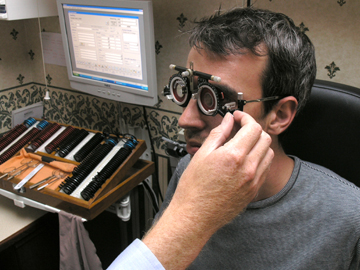 Regular eye examinations ensure that you are enjoying the best vision possible and will identify eye conditions such as glaucoma, cataract, and macular degeneration in their early stages. Our opticians can also gain a useful insight into your general health from the appearance of your eyes and may detect underlying conditions such as high blood pressure or diabetes.
We offer more than just a sight test.
A typical eye examination may include:
Discussion including your health, you and your family's ocular history, and your visual requirements for work and hobbies.
Examination of the front and back of the eye by an Ophthalmoscope and/or Slit lamp.
Assessment of spectacle prescription for the required working distance, such as distance (TV, driving), intermediate (VDU) and near (reading, sewing)
Muscle balance tests to make sure both eyes are working precisely together.
Tonometry (measurement of internal eye pressure -routine aged over 40)
Any other test deemed necessary by your Optician (colour vision, visual field testing etc.)
NHS eye examinations are available at Molsom & Associates for both adults and children who are eligible. All of our NHS patients are welcome to upgrade their eye exam to an advanced test which takes advantage of our OCT technology.
Of course for total peace of mind The Molsom Platinum Eyecare Plan is our membership scheme which enables us to provide you with the peace of mind you deserve and offers you the time, care and support required to look after the health of your eyes.
Your Eyecare Plan monthly cost covers;
• Advanced eye examinations as required, using the latest 3D OCT scans
• Unlimited appointments for private consultations, covering conditions such as DRY EYE and RED EYE
• 25% discount on all complete spectacles
• 25% discount on standard prescription sunglasses
• 10% discount on Maui Jim sunglasses, standard non-prescription sunglasses, accessories and eyedrops
To join our Platinum Eyecare Plan, please speak to our friendly staff who will happily guide you through the hassle free process (Terms and conditions apply and a minimum term of 18 months apply).
Quality Family Eyecare
If you have specific information or communication support needs, please let us know in advance and we will do our best to meet these needs. Our practice is all wheelchair accessible and on the ground floor.