Sunglasses
At Molsom Optometrists, we carry a wide range of Sports and Fashion Sunglasses to suit everybody. Wearing sunglasses to protect our eyes from harmful UV light is vital and not just restricted to the bright summer days! So we stock a great range all year to ensure it is never too late (or early) to look at investing in your eye health.
Maui Jim
Maui Jim is the world's fastest growing maker of premium polarized sunglasses. The company's portfolio includes 112 styles in more than 200 SKUs that range from sport performance frames to fashion-forward eyewear, loaded with the most technologically advanced eye protection needed outdoors. The frames have features like lightweight and durable titanium, Grilamid, nylon or acetate frames; Rabalon earpieces and adjustable nose bridges; spring hinges and anti-corrosive hardware; and wrap-around designs for optimal comfort and protection. Maui Jim makes styles for outdoor sports, including ocean and p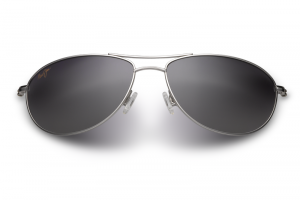 addling, fitness and endurance, golf, tennis, fishing and marine, as well as everyday activities.
Maui Jim offers four lens materials, including SuperThin(ST) Glass, MauiPure, Maui Evolution® and polycarbonate. Their lenses come in four colours that are scientifically free of colour distortion: Neutral Grey, a colour for maximum light reduction; HCL® Bronze, a warm brown lens for everyday activities; Maui HT a high-performance, palm green lens that improves definition and depth perception; and Maui Rose, a high-performance, blush-coloured lens for maximum contrast. Maui Jim sunglasses meet ANSI, EN and AS standards. Customers are able to identify authentic Maui Jim lenses by the logo in the upper right lens of their glasses.
Maui Jim has been voted favourite sunglasses company and best sunglasses by optical retailers and many of the top health, fitness and outdoor sports media around the world. Prescription, only better. The best.  Everyone expects it and Maui Jim delivers it. After all, there's no need to compromise quality when it comes to prescription sunglasses. With our own 24,000 sq/ft state of the art, fully automated lab, Maui Jim ensure that each lens is crafted with rigorous attention to optical excellence - combined with all the advantages of Polarized Plus®2 technology.
For more information see www.mauijim.com or book an appointment with one of lens experts now.
                                                                                           NIKE   
Molsom & Associates are now stocking Nike sunglasses. These glasses especially engineered and designed with athletes in mind they are great for anyone who is active. Designed with features like skull grips on the arms to ensure stability under helmets to having adjustable ventilated nose pads to reduce fogging the Nike range really excels. So for the runners, golfers, sailors, cyclists (the list is endless) come along and view the range.