Macular Degeneration covers a number of conditions which affect the macula at the back of the eye.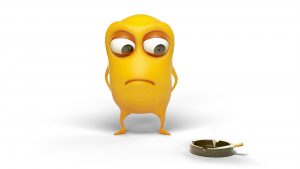 Mac knows the importance of not smoking
One of the most common symptoms of MD is noticing that straight lines appear wavy or that there are patches missing from your vision. Please visit our page for a more detailed explanation of this eye condition, Macular Degeneration.
The Macular Society are a charity which help support and raise awareness of Macular Degeneration, more information can be found on their web page ;
They have shared this clip which helps to highlight how Macular degeneration can develop;
Regular eye exams are vital in identifying a range of eye conditions for early treatment including Macular Degeneration, diabetes, glaucoma and many more. Remember with our advanced eye exams, providing OCT scans, many eye conditions can be detected in their early stages and the right treatment given.
Please call or visit us if you would like to book your private or NHS funded eye examination. Contact us on our online form, call the practice on 01775 713366 or pop in when passing next, 5 Hall Place Spalding PE11 1SA.
We hold a great range of support leaflets from the Macular Society from how to live with Macular Degeneration to how to protecting your eyes, please visit us at the practice if you feel you would like more information or advice.